Short-term Perioperative EPA/DHA Supplementation for Immune Modulation and Long-term Outcome; New Developments
This article at a glance
Three recent studies have looked at different aspects of early post-surgical immune-modulatory effects of perioperative supplementation with EPA/DHA.
These include lowered neutrophil activation potential, a decreased neutrophil-to-lymphocyte ratio, and reduced need for antibiotics.
Short-term supplementation may lead to long-term benefits that had not been recognized previously, and that merit further investigation.
The long-chain omega-3 polyunsaturated fatty acids (omega-3 LCPUFA) eicosapentaenoic acid (EPA) and docosahexaenoic acid (DHA) have been recognized to
impart
immune-modulatory activity for some time now. An endogenous role for EPA and DHA in regulating the immune system is now more firmly understood to operate in different immune cells helping the body tone down inflammatory reactions, aiding in the clearance of infections, and speeding up tissue recovery after injury. The
perioperative
enteral administration of omega-3 LCPUFA, in combination with other immunonutrients such as arginine and glutamine, has therefore been acknowledged to be of potential clinical utility. Patients receiving such immunonutrients have a significantly reduced incidence of post-surgical infections and a shorter hospital stay. Pre-operative enteral nutrition is also employed to restore malnutrition frequently
observed
in patients scheduled for surgical intervention, and it significantly improves surgical outcome. However, the individual contribution of the various components of immune-active supplements to the beneficial outcome is not entirely clear, and the importance of omega-3 LCPUFA for surgical outcome needs further assessment.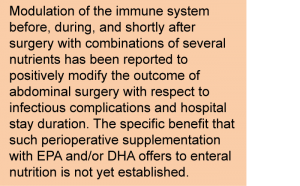 It is thought that patients scheduled for abdominal surgery for removal of tumors of the intestinal tract and who have a higher baseline of EPA/DHA levels in their blood and tissues, will have better surgical outcomes and recovery may be improved. In addition to incorporation of omega-3 LCPUFA in healthy tissues, supplementation with EPA/DHA will also lead to incorporation of EPA/DHA in the tissue of
gastro-intestinal tumors
themselves. Progress in the understanding of immune modulation by omega-3 LCPUFA for post-surgical benefit is indicated in three recently published studies. A
recent
publication by Sorensen and colleagues from the Department of Surgical Gastroenterology at Aalborg University Hospital, Aalborg, Denmark showed the results from a randomized double-blind, placebo-controlled clinical trial where patients with colon and rectal cancers that were scheduled for colorectal cancer surgery received an oral nutritional supplement with a high dose of EPA and DHA prior to and after surgery. The study was carried out in collaboration with colleagues from several other academic centers at Aalborg University Hospital, and the University of Southampton, England, UK. The omega-3 enriched liquid oral nutritional supplement contained 2 g EPA and 1 g DHA and was consumed by 74 patients (mean age of 71 years) for seven days before and seven days after surgery. Control subjects (n=74) received an identically-looking and -smelling oral nutritional supplement that had not been enriched with EPA/DHA. The supplement volume was 200 ml and was taken by sip feed, twice a day. It had previously been shown that under these conditions, EPA is effectively
incorporated
into colonic mucosal and muscular tissue. The levels of EPA, docosapentaenoic acid (omega-3) and DHA in granulocytes had increased significantly by the day of surgery. Importantly, this study placed emphasis on studying well-nourished patients, since previous intervention studies were likely to have studied patients with relatively high indices of malnutrition. The present study is further limited to one type of abdominal surgical intervention, namely colorectal cancer surgery.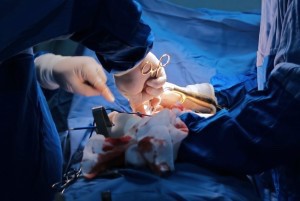 The intervention study did not find any significant reductions in infectious complications during 30 days following the surgical intervention in the patients who had received the EPA/DHA supplementation. Neither were differences in non-infectious complications found. There was no change in blood loss during surgery, intensive unit care, mortality or change in the length of hospital stay. Whereas compliance prior to surgery was high, the adherence to the oral intervention during the week after surgery was very low with less than 30% of patients adhering to the planned intake. This was due to nausea, vomiting, lack of appetite, ileus (lack of peristalsis) and presence of gastric tubes, which are commonly recognized impediments to post-surgical enteral nutrition. The same
researchers
more recently published the results of analyses of the immune-modulatory effects occurring during the same intervention trial. Blood samples were drawn on the day of surgical intervention after an overnight fast. Neutrophils were isolated and stimulated
ex vivo
with calcium ionophore (a stimulus used experimentally to activate calcium-dependent phospholipases that liberate PUFA from intracellular membranes). The formation of PUFA-derived lipid mediators was measured in the extracellular medium. In particular, the study focused on the formation of leukotriene B
4
(LTB
4
) and LTB
5
. The former is a product of 5-lipoxygenase acting on arachidonic acid (AA), whereas the latter is formed from EPA. LTB
4
is a potent inflammation-activating mediator that promotes the recruitment of neutrophils to an inflamed tissue and activates a range of immune cells. LTB
5
has similar biological activity but is a less potent agonist, interferes with LTB
4
action, and is generally
considered
to not promote inflammation. The study found that pre-surgical supplementation with EPA/DHA led to a marked increase in ex vivo LTB
5
producing capacity, a decrease in LTB
4
formation, and a 6-fold increase in oxygenation of EPA to 5-hydroxy-eicosapentaenoic acid, a reduced oxygenation product of EPA. In other words, the neutrophils of patients that took EPA/DHA for a week were significantly altered and prepared to react with a reduced inflammatory response on the day of surgery. Recently, in a separate clinical trial
Cockbain and colleagues
made an interesting observation in patients scheduled for liver resection surgery for colorectal cancer metastasis. This double-blind, randomized, placebo-controlled trial was carried out at the Leeds Institute of Biomedical and Clinical Sciences, St. James University Hospital, Leeds, England, UK in collaboration with colleagues from the University of Bradford, and the University of Bologna, Italy. Here, 43 patients (average age 71 years) were given 2 g EPA daily from the day of randomization until surgery. The EPA was 99% pure and in free fatty acid form, provided in 500 mg capsules. Controls received identical capsules containing a capric/caprylic acid-medium chain triglyceride oil. The median duration of EPA intake was 30 days prior to surgery compared to 26 days of placebo. The treatment and control groups were well-matched and compliance was reported to be high.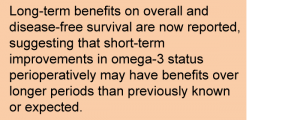 A significant increase in the level of EPA and DPA (omega-3) in the liver tumors of the patients who had been taking EPA was found, compared to control patients. The tumor vascularity was lower in the EPA-treated patients. Reversible decreases were observed in urinary prostaglandin E
2
excretion and NF-кB activation in blood monocytes, indicative of a systemic anti-inflammatory effect. Importantly, this trial had a follow-up of survival for 40 months after surgery. Approximately six months after surgery those patients who had taken EPA before surgery started to demonstrate a relatively increased overall survival compared to the control subjects. From approximately 12 months onwards disease-free survival was higher although the differences were not statistically significant and the authors recognize that the trial was not designed to detect these differences with sufficient power. However, exclusion from the analysis of those patients that had received a second colorectal cancer liver metastasis surgery (patients known to have a more aggressive disease) revealed EPA allocation to be predictive of improved disease-free survival (hazard ratio = 0.35; P=0.011). The authors state that "prolonged survival benefit after limited pre-operative EPA-free fatty acid therapy is plausible." It is discussed that the observed effect on survival may be due to reduced growth of established tumors or a beneficial effect of EPA on colorectal cancer-induced cachexia. Future studies that focus on studying long-term benefits and survival after a short pre-surgical supplementation with omega-3 LCPUFA will now be highly interesting to perform. A third recent study provides additional new insight into the immune modulation activated by perioperative supplementation with omega-3 LCPUFA.
Yamamoto
and colleagues from the Iwakuni Clinical Center at the National Hospital Organization in Yamaguchi, Japan and collaborators at the Fukuyama Medical Center, Hiroshima, and at Okayama University studied the effects of perioperative EPA in patients scheduled for cardiac surgery. Patients were randomly assigned to two groups. The first group with 10 patients (average age 71 years) received 1.8 gram EPA each day for one month prior to surgery. The control group with 12 patients did not receive any supplement. The two groups were well matched with respect to pre-operative characteristics, and no significant differences in the surgical procedure were reported. On the day before surgery, EPA levels in plasma were twice as high in patients who had taken the EPA supplement, compared to controls. The arachidonic acid (AA) level had decreased. The methodology used for fatty acid analysis was not clearly described. A range of postoperative events were not different between the two groups, and the authors conclude that future studies that aim at identifying the potential benefits of pre-surgery EPA supplementation should focus on high-risk patients with hyperlipidemia, obesity, diabetes and NYHA Class III or IV scores (New York Heart Association functional
classification
of heart failure). Whereas the prophylactic use of antibiotics was not different between the treatment groups, second-line antibiotic use was significantly reduced in patients that had taken EPA. The researchers also found significant changes in the counts of neutrophils in blood, with significant decreases in the EPA-treated group at 1 and 3 days after surgery. These changes were also reflected in a significantly decreased Neutrophil-to-Lymphocyte Ratio (NLR). The NLR is frequently used to assess the level of sub-clinical inflammation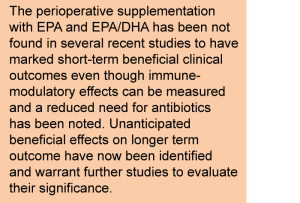 occurring at systemic level, and is predictive for
bacteremia
. The NLR is also a reasonably good
predictor
for several aspects of cardiovascular disease, such as advanced coronary artery disease, impaired myocardial perfusion, and mortality from myocardial infarction. A reduced neutrophil count and a decreased need for antibiotics post-surgically in patients that received EPA before surgery may point at a reduced hazard from infectious exposure. Whereas the study was relatively small and was not placebo-controlled and therefore not blinded, the results suggest that the early immune-modulatory effects of presurgical supplementation with EPA may be important for control of the bacteremia and may have beneficial long-term outcomes. Taken together, these three new studies suggest early immune-modulatory effects of presurgical and perioperative omega-3 LCPUFA supplementation. Whilst supplementation appears to have little effect on short-term clinical outcome, it may increase protection towards microbial infections and potentially have a beneficial effect on long-term outcomes. The observations made by
Sorensen
and colleagues may also provide a first indication to the mechanisms underlying such long-term outcomes. Increased omega-3 levels acquired perioperatively, could decrease the capacity to form LTB
4
, produced through increased peroxisomal
catabolism
in neutrophils. Lower levels of LTB
4
are likely important for diminished activation of neutrophils and other immune cells. Together with a lower NLR as a result of perioperative EPA/DHA supplementation, a reduction in neutrophilia and neutrophils that are less activated may possibly contribute to the observed improved outcome over time. Further studies on the perioperative use of omega-3 LCPUFA are required to determine whether supplementation improves long-term post-surgical outcome in colorectal cancer patients and other patients scheduled for abdominal surgery. Cockbain AJ, Volpato M, Race AD, Munarini A, Fazio C, Belluzzi A, Loadman PM, Toogood GJ, Hull MA. Anticolorectal cancer activity of the omega-3 polyunsaturated fatty acid eicosapentaenoic acid.
Gut
2014;63(11):1760-1768. [
PubMed
] Sorensen LS, Thorlacius-Ussing O, Rasmussen HH, Lundbye-Christensen S, Calder PC, Lindorff-Larsen K, Schmidt EB. Effects of perioperative supplementation with omega-3 fatty acids on leukotriene B
4
and leukotriene B
5
production by stimulated neutrophils in patients with colorectal cancer: a randomized, placebo-controlled intervention trial.
Nutrients
2014;6(10):4043-4057. [
PubMed
] Yamamoto T, Kajikawa Y, Otani S, Yamada Y, Takemoto S, Hirota M, Ikeda M, Iwagaki H, Saito S, Fujiwara T. Protective effect of eicosapentaenoic acid on insulin resistance in hyperlipidemic patients and on the postoperative course of cardiac surgery patients: The possible involvement of adiponectin.
Acta Med. Okayama
2014;68(6):349-361. [
PubMed
] Worth Noting Cerantola Y, Grass F, Cristaudi A, Demartines N, Schafer M, Hubner M. Perioperative nutrition in abdominal surgery: recommendations and reality.
Gastroenterol. Res. Pract.
2011;2011:739347. [
PubMed
] Endres S, Ghorbani R, Kelley VE, Georgilis K, Lonnemann G, van der Meer JW, Cannon JG, Rogers TS, Klempner MS, Weber PC, Schaefer EJ, Wolff SM, Dinarello CA. The effect of dietary supplementation with n-3 polyunsaturated fatty acids on the synthesis of interleukin-1 and tumor necrosis factor by mononuclear cells.
N. Engl. J. Med.
1989;320(5):265-271. [
Link
] Gazi E, Bayram B, Gazi S, Temiz A, Kirilmaz B, Altun B, Barutcu A. Prognostic value of the neutrophil-lymphocyte ratio in patients with ST-elevated acute myocardial infarction.
Clin. Appl. Thromb. Hemost.
2015;21(2):155-159. [
PubMed
] Heys SD, Walker LG, Smith I, Eremin O. Enteral nutritional supplementation with key nutrients in patients with critical illness and cancer: a meta-analysis of randomized controlled clinical trials.
Ann. Surg.
1999;229(4):467-477. [
PubMed
] de Jager CP, Wever PC, Gemen EF, Kusters R, van Gageldonk-Lafeber AB, van der Poll T, Laheij RJ. The neutrophil-lymphocyte count ratio in patients with community-acquired pneumonia.
PLoS One
2012;7(10):e46561. [
PubMed
] Kragballe K, Voorhees JJ, Goetzl EJ. Inhibition by leukotriene B
5
of leukotriene B
4
-induced activation of human keratinocytes and neutrophils.
J. Invest. Dermatol.
1987;88(5):555-558. [
PubMed
] Senkal M, Haaker R, Linseisen J, Wolfram G, Homann HH, Stehle P. Preoperative oral supplementation with long-chain omega-3 fatty acids beneficially alters phospholipid fatty acid patterns in liver, gut mucosa, and tumor tissue.
J. Parenter. Enteral. Nutr.
2005;29(4):236-240. [
PubMed
] Sorensen LS, Rasmussen HH, Aardestrup IV, Thorlacius-Ussing O, Lindorff-Larsen K, Schmidt EB, Calder PC. Rapid incorporation of omega-3 fatty acids into colonic tissue after oral supplementation in patients with colorectal cancer: A randomized, placebo-controlled intervention trial.
J. Parenter. Enteral Nutr.
2013;38(5):617-624. [
PubMed
] Sorensen LS, Thorlacius-Ussing O, Schmidt EB, Rasmussen HH, Lundbye-Christensen S, Calder PC, Lindorff-Larsen K. Randomized clinical trial of perioperative omega-3 fatty acid supplements in elective colorectal cancer surgery.
Br. J. Surg.
2014;101(2):33-42. [
PubMed
] von Schacky C, Kiefl R, Marcus AJ, Broekman MJ, Kaminski WE. Dietary n-3 fatty acids accelerate catabolism of leukotriene B
4
in human granulocytes.
Biochim. Biophys. Acta
1993;1166(1):20-24. [
PubMed
]